Solar
How Many Solar Panels Do I Need: Calculate Your Solar Savings Today
How many solar panels do I need for my home?
Most homeowners who switch to solar are seeking to eliminate their electricity bill. So the first step in finding your individual solar panel amount would be determining how to meet the amount of energy you use with solar.
To find the correct amount of solar panels for your home you should find out how many kWh of energy you use. You can call your electricity company or find this amount in your monthly energy bill statement.
You're not alone in this process!
Home Professionals is here to make home owning and saving money so much easier! Simply use our free quote form or our phone number to help plan your solar power system–we'll do all the work getting you connected to the best solar deals and pros in your area today.
Call For Your Free Quote: 888-653-4924 
How to calculate how many solar panels you'll need for your home.
How much electricity does an average home use?
The US Energy Information Administration states the average annual electricity use for a U.S. residential citizen amounts to 10,766kWh.
This averages out to 897kWh/month or 30KWh/day.
How many kWh of energy can my solar panels produce?
A simple way to figure out this number is to calculate it this way:
(hours of sunlight) x (wattage of your solar panel) = number of watts-hours
So, if you get 5 hours of direct sunlight and you have a 250 watts solar panel, that panel would get 1,250 watts-hours (about 1.2-1.3kWh).
This would be about 438 – 474kWh of energy per panel per year.
How do I calculate the number of solar panels I need for my house?
First, find out your exact kWh of energy use per year (you can find this number on the bottom of your energy bill statements or you can call your energy company.
1kWh=1,000 watts of power per hour.
Here's a simple way to figure out your ideal solar panel system size:
kWh per month / (avg sunlight per day * 30) = kW solar system
You'll most likely be working with 250-watt solar panels. 250-365-watt panels are most the most commonly installed solar panels for business and residential solar power systems.
If you consider solar panel production ratios (1.31 and 1.61 are the highest and lowest in the U.S.), then divide 11,000kWh (average U.S. residential energy use) by the ratios, then divide that number by 250 (your typical solar panel wattage), you'll get a an average range of solar panels needed for a house.
Typically, that's going to be between 27 and 33 solar panels in order to eliminate your energy bill.
Of course this all fluctuates on the size of your home, where you live, and your typical energy use.
Obtaining professional quotes can be very helpful as you continue planning your solar power system.
How many solar panels do I need to run certain home appliances?
If you have an energy expense, such as an electric vehicle, the amount of solar panels you need may go up.
Some homeowners simply want solar panels to counter the cost of some appliances.
So keep this in mind as you make your goals and budget your home solar power system.
Breaking down the kWh use/cost of your refrigerator, ac, swimming pool, etc. can help you see where your energy is going and how much of your solar panel energy will be going to these appliances.
Use this appliance calculator provided by energy.gov to help you see where your power is going.
Call For Your Free Quote: 888-653-4924 
How much does a home solar power system cost?
Watts represent your solar panel's theoretically possible power ability with ideal sunlight and conditions.
Most residential solar panels have power ratings ranging from 250-400 watts.
The higher power ratings are more desirable, but they're also more expensive.
So the price per watt and the size of your solar power system will influence the cost.
How much does a solar panel cost?
Simply enough, you can look up your area's cost per watt to gauge the price of a solar panel.
On average, they're solar panels run between $2.50 and $3.98 per watt.
The national average cost of a solar panel is around $2.98/watt. So if you're gearing up for a 6kWh solar panel system, it will cost you around $17-18,000. However, after tax credits, homeowners are savings thousands on their systems, reducing the cost to around $10-$12,500.
It's more affordable to go solar every year thanks to many tax incentives like the solar tax credit (ITC).
How much will a solar panel system cost?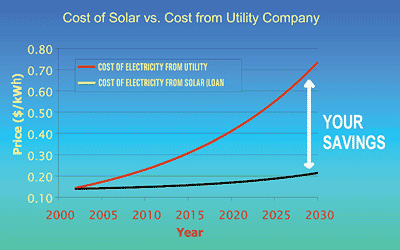 Obviously the cost of your solar panel system will change depending on where you live, which state incentives you have access to, the rate of your energy, and how much energy you use.
You can figure out the size of system you'll need by doing some quick estimating as shown above under "How do I calculate the number of solar panels I need for my house?"
Here's a simple formula you can use.
kWh per month / (avg sunlight per day * 30) = kW solar system
On average, after tax credits, homeowners are spending around $10,500-$14,200 on their solar panel energy system.
Check out more funding for homeowners to go solar.
How long will it take to payoff my solar panel system?
To calculate your solar payback time, you'll want to consider these key numbers:
Gross cost: Subtract your up-front incentives/rebates from the gross cost of your solar panel system.
Benefits in finances per year: Add your yearly financial benefits together. This includes the amount your saving in energy each year and any other incentives such as tax credits or cuts.
Payback Number: Divide the Gross Cost number by your Benefits number. This should be the number of years until you achieve solar payback/payoff.
The solar payback period is the calculated time it will take you to pay off your solar panel system.
The average payback time is around 6 to 9 years.
Every year after that solar payback period is considered all financial gain.
This payback period changes depending on whether you're part of the PPA (Power Purchase Agreement) program, doing a solar loan/lease, or buying the panels outright.
Really high and volatile energy rates, as well as the fact that solar is becoming so affordable, makes it much easier and beneficial for homeowners to get solar and pay it off quickly.
Are there solar installers near me?
Studies show that homeowners who compare several quotes tend to get better prices and have shorter solar payback periods.
Find solar installers near you today using Home Professionals' free quote and pro finder to get connected to the best deals and pros in your area today.
Or, if you'd prefer, use the number below to get the help you need now. You don't have to wait a single minute more.
We'll do everything we can to save you money and get you a shorter payback period.
Call For Your Free Quote: 888-653-4924 
Find Out If You Qualify For Solar Funding!
We protect your information.